SportsNation Blog Archives

Matt Ryan
We may not have the Tom Brady vs. Peyton Manning matchup in the AFC Championship Game much of SportsNation wanted to see, but both championship games are loaded with talent. Ravens linebacker Ray Lewis and Falcons tight end Tony Gonzalez are hoping to end their careers on top, 49ers quarterback Colin Kaepernick is two games away from winning a Super Bowl in his 10th career start, and Falcons quarterback Matt Ryan's 0-for-3 record in the playoffs is history after a thrilling 30-28 victory over the Seahawks. How do the best players remaining in the NFL playoffs stack up? Click the images to vote.


Super Bowl XLVII players
John Abraham

Anquan Boldin

Tom Brady

Michael Crabtree

Vernon Davis

Joe Flacco

Tony Gonzalez

Frank Gore


Julio Jones

Colin Kaepernick

Ray Lewis

Brandon Lloyd

Jerod Mayo

Dennis Pitta

Ray Rice


Stevan Ridley

Matt Ryan

Aldon Smith


Torrey Smith

Michael Turner

Wes Welker

Roddy White

Patrick Willis

Danny Woodhead

Danny Woodhead
Patriots RB
Your Rankings
1.

2.

3.

4.

5.

6.

7.

8.

9.

10.

11.

12.

13.

14.

15.

16.

17.

18.

19.

20.

21.

22.

23.

24.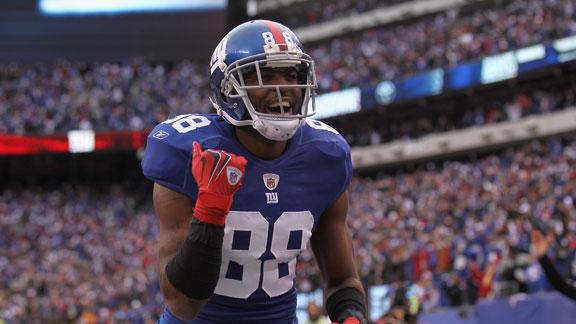 ---
Who are the Atlanta Falcons?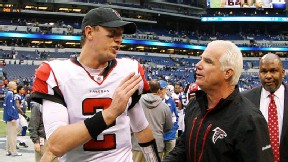 Some experts picked the Falcons as a Super Bowl contender this season, but a 24-2 loss against the Giants means Mike Smith and Matt Ryan are now 0-3 in the playoffs.

---
What's the verdict on Matt Ryan?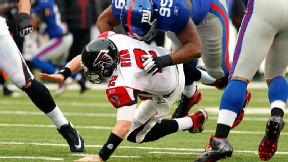 Ryan finished the regular season with the NFL's eighth-best passer rating, the third time in his four pro seasons he's been in the top 11.

---
Is Mike Smith too aggressive?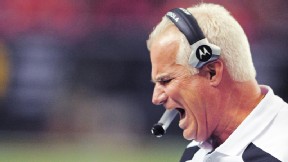 Mike Smith didn't let a fourth-down failure against the Saints earlier this season stop him from going twice in Sunday's game, once in easy field goal range with his team down 10-2.

---
Falcons, Panthers or Buccaneers?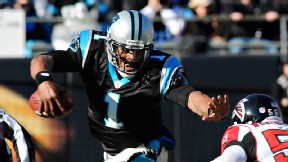 The Saints are ahead of the Falcons at the moment, so we'll set them aside in the NFC South. But does Cam Newton give the Panthers the edge on the Falcons moving forward?

The NFC South is holding a private party this weekend, and you can't get in without a franchise quarterback. Drew Brees and the Saints visit Josh Freeman and the Buccaneers, while Cam Newton and the Panthers travel to face Matt Ryan and the Falcons in a weekend of divisional games. Does any division have a better quartet? Fantasy vote: What to do with Freeman?
"I'm sorry Panthers fans, but if we held Aaron Rodgers to two touchdowns and put Mike Vick out of the game, then Cam Newton's future at the Georgia Dome doesn't look too promising." -- SN commenter rjharrington24
"Carolina will stack eight in the box and dare Ryan to beat them, which he hasn't really done to any team yet." -- SN commenter Roys3428
---
The pick of the franchise quarterbacks?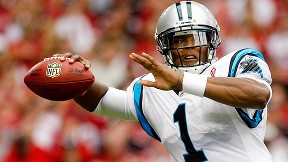 Drew Brees is sort of the quarterback emeritus in the division, but is Cam Newton the best bet for success among the three young guys?

---
Who puts on the best show?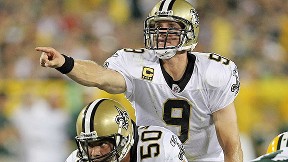 Bringing Brees back into the equation, does he still put on the best show in charge of the high-flying Saints?

---
Which team wins the division?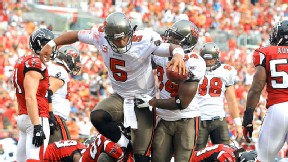 The Saints could emerge from Week 6 with a two-game lead on the rest of the division, or they could find themselves tied with Freeman's Bucs.

This week's game isn't Michael Vick's first trip back to Atlanta since returning to the NFL, but it is his first trip back as a starting quarterback. A starting quarterback of a team with the potential to keep Matt Ryan and the Falcons from the Super Bowl, at that. Vick's history is undeniably complicated, but is he still the star in his old home? Vote: Week 2 questions
"Vick will return to ATL and rip the fans hearts out AGAIN, this time by spanking the Falcons. And I'm glad he will spank the Falcons. They should of never released him. After all, we do live in a society that believes in second chances (except Arthur Blank and the Falcons). Most ATL fans were and are willing to forgive Vick except for the organization." -- SN commenter ruilemos
"Matt Ryan has had back-to-back winning seasons with the Falcons, for the first time in their franchise history. Vick never did it." -- SN commenter blue_rabbits
---
Does Vick still have keys to the place?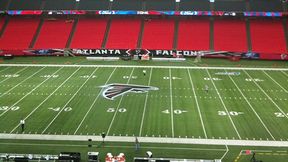 Vick suggested the stadium that used to fill with fans to watch him play is now the property of Matt Ryan. But is Vick just a visitor?

---
How will Vick be greeted?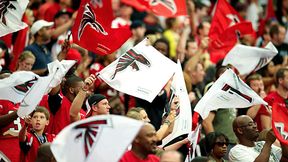 If Vick is just a visitor, how warm will the welcome be? Vick was a fan favorite, but nobody needs a reminder of how his departure unfolded.

---
Would the Falcons rather have Vick?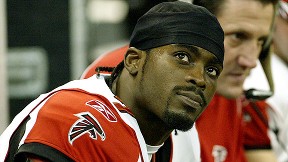 Both teams seem entirely happy with their current situations. But if the Eagles called the Falcons with an offer, what would the latter party say?

---
What about this week's game?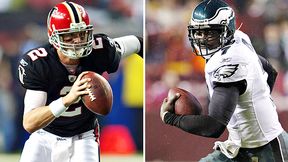 Ryan threw for 319 yards on 31-of-47 passing last week, but he lost to the Bears. Vick managed just 14-of-32 passing but got the win at the Rams.

1. Is Matt Ryan the best young quarterback in the NFL?
Staring at 80 yards of field with just 65 seconds on the clock? That's tough. Facing that scenario against Ray Lewis and the Ravens? Good luck. But Matt Ryan threw a late touchdown pass to Roddy White -- who may or may not have gotten away with a push -- for a Falcons win. Is Ryan the best young franchise quarterback? NFL QB ranker.
"If players need to get fined for ridiculous reasons, then referees need to be fined for ruining games at the end like they did last night. That entire final drive was orchestrated by the zebras, not Matt Ryan." -- SN commenter pomppomp
Matt Ryan was flying high at this time last year. The rookie quarterback was doing what rookie quarterbacks rarely do: play a significant role in a team's success. He might have only been on the fringes of the MVP race, but SportsNation still said he was the fourth-best quarterback taken in the draft since 2000. On the other hand, Joe Flacco earned praise more for not being bad than for being good as a rookie starter.
But has the script flipped?
Flacco is currently No. 13 in passer rating for a team with a winning record. Ryan ranks behind Jason Campbell and the recently benched Shaun Hill. So midway through their sophomore seasons, whom would you rather have as your franchise quarterback?
Vinnie (ATL)
The Falcons are in a hole to make the playoffs. Do you think Ryan is concentrating too much on Gonzales which leads to more throws over the middle and interceptions?
Chris Mortensen
The Falcons' schedule was always going to make this tougher than 2008. In speaking with people who have watched Falcons' tape, they would agree that maybe Ryan has become too dependent on Gonzalez and that he's getting hit/rushed a little more than last year, which is causing a few more bad decisions and, in some cases, expose some physical limitations. But he's a very sharp, dedicated guy, he's young and the Falcons are in good hands. Full transcript
HW (Bel Air, Md)
How Jaws say that Flacco has NOT progressed? This isn't Brady Quinn here.
Football Outsiders' Bill Barnwell
Well, he's watched the tape and sees a quarterback that's less accurate on his deep throws, still has trouble picking up the rush and identifying blitzers, and has accuracy issues at the intermediate level. Full transcript
Commentators seem fond of pointing out how much fun Brett Favre appears to be having when he's on the football field, but for SportsNation's money, no quarterback is more fun to watch than Drew Brees. Lucky for you, he's on ESPN tonight against Matt Ryan's Falcons. But if we're closing in on midnight ET and the Saints and Yankees are both looking to pull out wins, who would you sooner trust with the ball?
"

I'm a diehard falcons fan always will be but realistically speaking I don't see us winning this game by any stretch of my imagination.....at least after this game we have the redskins to beat up on

"

-- georgehenries
"

Another Monday Night blowout coming. I know u falcons remember the last. This one is gonna be sweeter. Geaux Saints!

"

-- nino512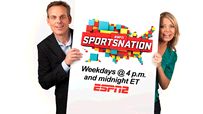 Michelle Beadle and Colin Cowherd will be winning every game on the midway during "SportsNation" TV.
Argue the hot topics of the day and vote on the biggest stories from the world of sports. The show airs on ESPN2 at 5 p.m. and midnight ET.
Note: Broadcast voting results as of this afternoon (ET).

How should Cowboys fans feel about Tony Romo's golf game?
Golf Digest has listed Tony Romo as the top athlete golfer. Has he spent too much time honing non-football skills?
Which quarterback would you rather have?
Jay Cutler has thrown for 8 touchdowns, 901 yards and 5 interceptions. Matt Ryan has 7 touchdowns, 977 yards and 2 interceptions.
Which team will win Saturday's game at Notre Dame?
A Notre Dame win could vault the Irish to a BCS bid and solidify Charlie Weis' job. A USC win could set the Trojans up for the BCS title game.
Which is the bigger story surrounding the start of Angels-Yankees?
Has the cold, windy, rainy weather in the Northeast upstaged the games in the American League Championship series?
What is "SportsNation" TV, and how do you make your voice heard? Read about the new ESPN show that features fan opinions with calls, tweets, polls, rankers and more.
Why didn't AIG have this kind of foresight? As recounted in the Wall Street Journal, Fantasy Sports Insurance launched this year to offer fantasy football owners some peace of mind on their high-dollar investments. Drafted Adrian Peterson but worried about an injury ruining your season? Buy insurance on him and recoup your league fees if he gets hurt (although in Peterson's case, based on his chat with SportsNation, Frank Gore insurance would have been a better investment).
One of the only 50 stars the company offered to insure? Cedric Benson. The same guy who averaged 3.5 yards per carry last season while rushing for a career "best" 747 yards. Forget insurance; we're going to these guys for our draft cheat sheet next year.
Thanks in no small part to Benson, who has 487 rushing yards in five games, the Bengals are 4-1. But does that make him a better MVP pick than Carson Palmer, let alone Peterson, Drew Brees, Peyton Manning or other standouts?
Where do Benson and Palmer rank on your MVP ballot?
Scott (Bakersfield, CA)
Which offseason add has helped their team more Dawkins or Sharper?
Gary Horton

That's almost a push. They are both great veteran players with tremendous leadership skills. Your first inclination might be to say Sharper because of his big plays and his instincts. He can turn around a game with those interceptions. My sources in Denver tell me Dawkins is like another coach on the field and is a huge part of the speed in which Denver has made the transition from a 43 to a 34. That may not show up in the box score, but it is a big factor in their success. Full transcript.
Random (Dude)
DO u have yourself on your fantasy team?
Adrian Peterson

Nope. Frank Gore. And Matt Forte. Full transcript.
Save for the Falcons, Eagles, Cardinals and Panthers, NFL teams are already a quarter of the way through the regular season. Most places, that means an opportunity for fans to take stock of what they've seen and set expectations for the remaining 12 games. In St. Louis, where the Rams have been voted the worst of the worst four weeks running, we don't recommend diverting your attention from the Cardinals. (Or the Blues, for that matter. In fact, if the Saint Louis Billikens have any halfway decent post players, you might just want to skip ahead to basketball season).
Through just a quarter of the season, we've already seen three teams trade the top spot in SportsNation's Power Rankings -- not to mention 15 teams ranked somewhere in the top 10 at some point. And as good as Drew Brees has been, his Saints have cracked the top 2 just once. Just imagine how messy this would be in the BCS.
"

NFC East is a hugely overrated conference at the moment. The Redskins and Cowboys appear to be actively bad teams; and both the Eagles and Giants have question marks as to the health of key players.

"

-- MNRyan55
"

The fact is, the Jets won't even be a part of the play-off picture, so why are we even bothering with them now. The AFC will come down to the Colts, Patriots, Steelers, Ravens and probably the Chargers and the NFC will most likely come down to the Saints, Giants, Vikings, Bears, Eagles and Packers.

"

-- MadMax1018